Teacher Bios
Meet our Teachers
Toddler

Judy Doucette
Judy has been with the School since 1981 and has worn many hats over the years. She has served as a board member and assistant teacher, in addition to being a lead classroom teacher, and she now guides the 'Ōhi'a Toddler Class. Three of her own children have graduated from our school and two of her grandchildren are currently students with us. Her range of experience allows her to understand the many facets of our children's journey here at the Montessori School of Maui.
Judy has an Infant/Toddler Montessori teaching credential, a Child Development and Primary Montessori Teaching Credential from the Montessori Education Center of the Rockies through University of Colorado at Boulder and a Chaminade University Primary Montessori credential as well. Judy is originally from Long Beach, California but has lived on Maui since 1969. She previously owned and operated a whale-watching and snorkel boat chartering business for many years, was an avid wind surfer and continues to love spending time on the beach.
Primary

Alejandra Veronica Carta
Ale first joined our school in 2007. After two years in California, she returned and has been with us in a number of different roles, including Assistant in the Kamani Primary classroom, where she is now the Lead Guide. She completed her AMI Primary training from the Montessori Institute of San Diego in 2007 and also holds an English Preschool teaching certificate in Uruguay, where she was born and raised.
Ale moved to the United States in 2003 and to Maui in 2006. Ale shared that, "I am absolutely enthralled by Montessori observation and, as a Lead Guide, it is my responsibility to prepare an environment that fosters growth and provides each child with the possibility to reach his/her potential."
Shana Driscoll
Shana has been a part of the Montessori School of Maui since 1996. We often admire the great energy that Shana has and are not surprised to be reminded that, in addition to having a bachelor's degree in social science and a master's degree in education, she is also certified as a personal trainer. She puts her skills to good use in the vibrant and active Monkeypod Primary Class as Lead Guide.
Shana embraces the fact that lessons on campus are "presented" rather than "taught," allowing each student to explore and eventually master skills at his or her own developmentally-appropriate pace. She sees the mission of her teaching as "encouraging and guiding children to become global citizens." In addition to nurturing the Monkeypod students, she has three children of her own who have attended Montessori School of Maui.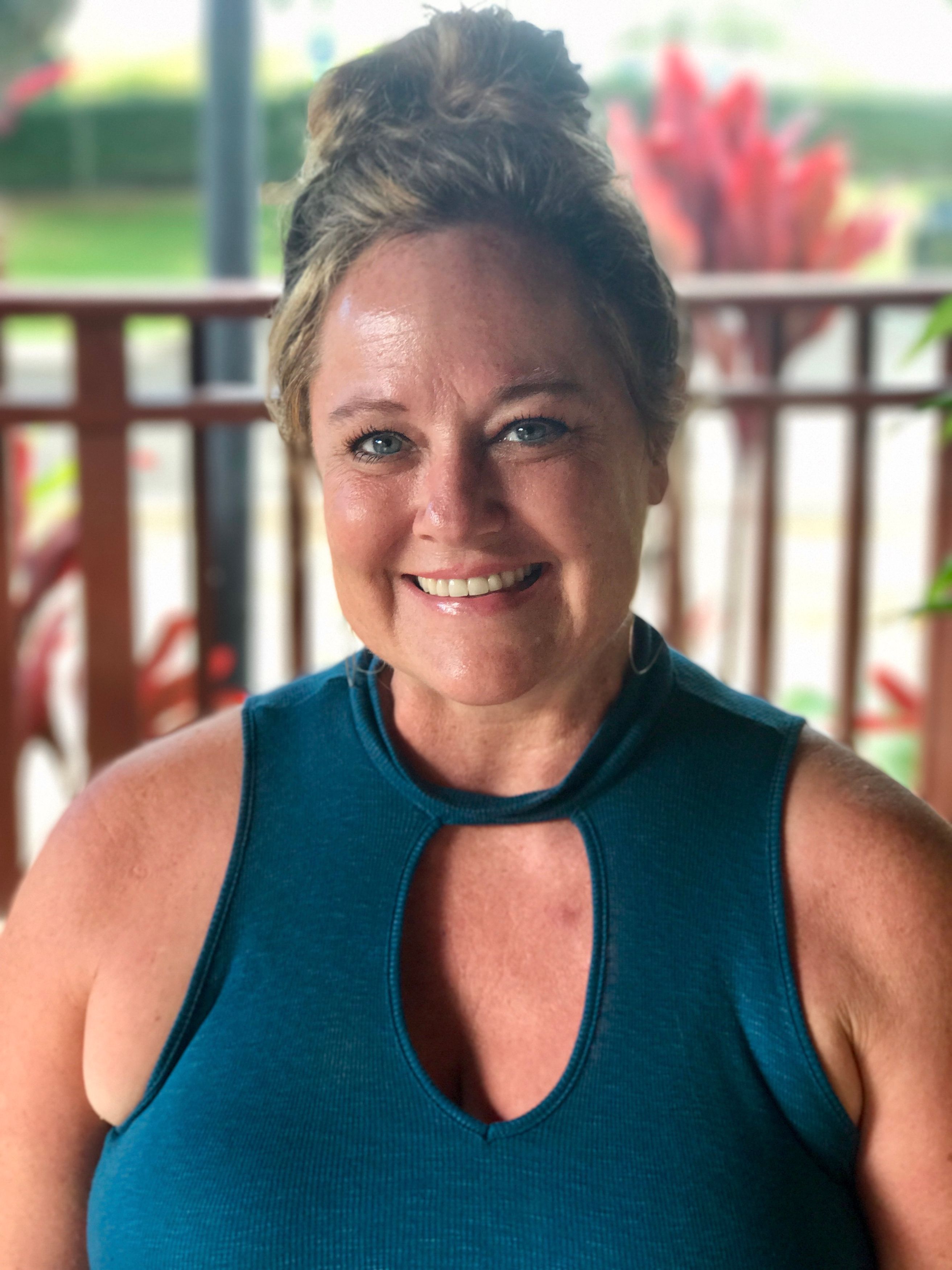 Chrissy Charles
Chrissy has been teaching at the Montessori School of Maui since 2006, where she is Lead Guide in our Nara Primary Class. Her enthusiasm for the unique aspects of a Montessori education has inspired a second generation, as her daughter, Holly, is an assistant in the Upper Elementary Mamane Class and her son, Logan, previously attended school here as well. Chrissy's dedication surrounds the children in her classroom as they embark on the independent exploration that supports the educational environment of the primary classroom.
Chrissy moved to Maui from Colorado, where she was trained at the Montessori Education Center of the Rockies through the University of Colorado at Boulder and has a primary guide certification. She also has completed programs in child development, Primary Orff Music teaching and has Master Gardener certification. She enjoys hula, gardening and animals. She tells us that, "the Montessori philosophy has permeated my entire life and I can't imagine living in this world without it!"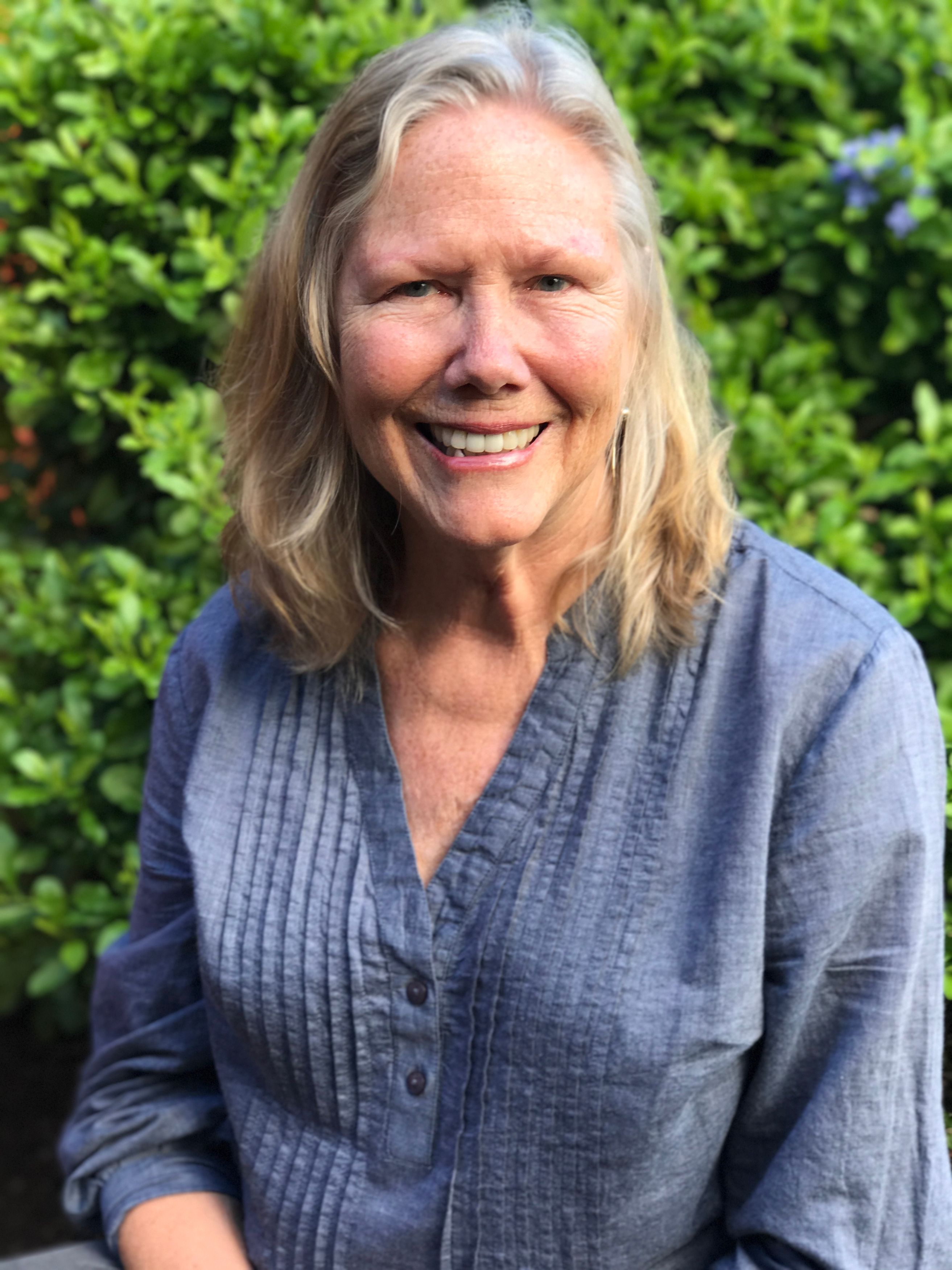 Janie Kunin
We have been fortunate to have Janie guiding our students since 1996. She is Lead Guide in the Plumeria Primary Class in learning and growing and is a rich resource who readily shares her wisdom and experience. The parents of her students often feel as if they have learned as much from their Montessori experience in Janie's class as their children. Although originally from California, Janie has lived on Maui since 1969.
Janie has a Bachelor's Degree in Early Childhood Education and Primary Certification from Chaminade University of Honolulu. She explains, "the gift of a Montessori education, tailored to each child's individuality, inner drive and learning style, fosters a lifelong love of learning, independence and critical-thinking skills as well as compassionate global citizenship and earth stewardship." Janie has been married to her husband, Neal, since 1987 and has two adult children and two grandchildren.
Megan Lacasse
Megan joined Montessori School of Maui in the fall of 2013 as the Lead Guide the Kukui Class. She completed her AMI Primary training at MISD (Montessori Institute of San Diego), and worked previously for a Montessori school in California for three years at the primary level – one year as the movement and gardening teacher and two years as primary classroom assistant. Megan obtained her undergraduate degree in Human Development from UC San Diego, and spent her junior year studying abroad in Ireland. She then completed a Master's Degree in Child Development at the UC, Davis.
Originally from Point Reyes Station, California, Megan is a proud auntie of two boys. She loves to hike, knit, sew, cook/eat healthy yummy food, and spend quality time in nature with her husband and dog, Abbey. She feels passionately about following the child and creating an environment that fosters the child's independence. "Dr. Montessori believed, as do I, that we must 'educate for peace,' which begins with the child," shared Megan. "I feel so blessed to be a member of this amazing community!"
Lower Elementary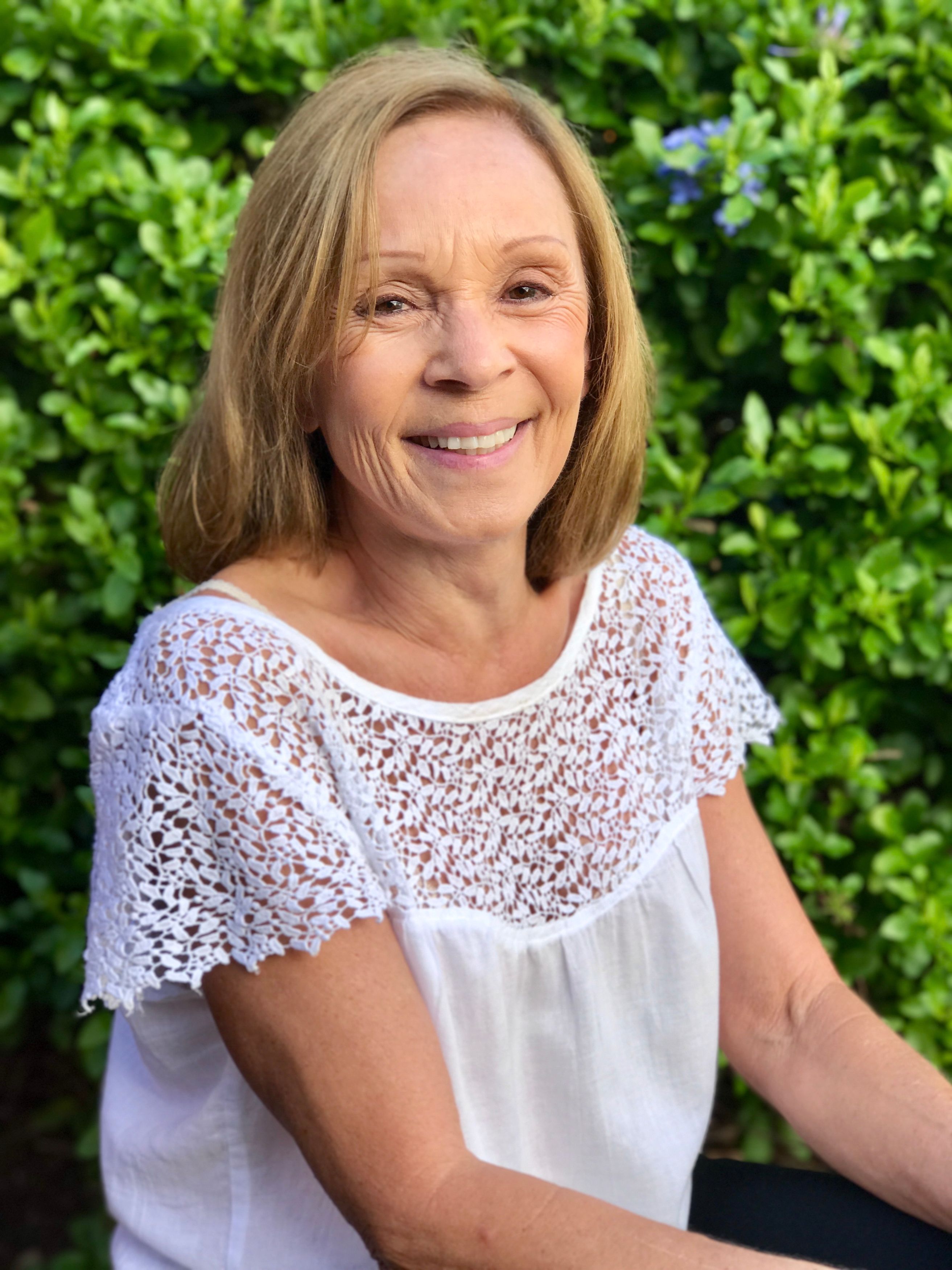 Gloria Del Rivo
Gloria has been guiding students in the Jacaranda Lower Elementary Class at Montessori School of Maui since 2004. Her interest in healthy living infuses her students with respect for their minds, emotions and bodies. She teaches yoga at after school workshops and offers extended guidance in healthy food choices. This positive influence often inspires whole families to look at life and learning holistically. Gloria's students respond to her individual guidance with enthusiastic exploration of the world around them.
Gloria received her lower elementary certification from the Claremont Center for Advanced Montessori Studies and has taken additional teacher education classes and computer training since. She enjoys gardening, writing and is the living embodiment of "meeting the needs of each child" in her classroom.
Jolyne Rego
Jolyne has been our Wiliwili Lower Elementary Class leader since 1995. She infuses her classroom with a special dose of Hawaiian aloha going back to her ancestors who arrived from the Azores in 1884. Rituals are celebrated in the structured environment of her classroom and the Wiliwili chant and secret handshake are two of the special experiences shared by the students she has guided.
Jolyne loves to dance hula, paddles with the Lae Ula Canoe Club and enjoys traveling to spend time with her granddaughter and five puppies. She has a bachelor's degree and a master's in education from Notre Dame, as well as Montessori certification in primary and elementary levels. She has additional training in working with dyslexia and the Linda mood Bell learning methods. Her love for musical theater and Hawaiian culture emerges in some of the special projects and performances her students develop during their Wiliwili years.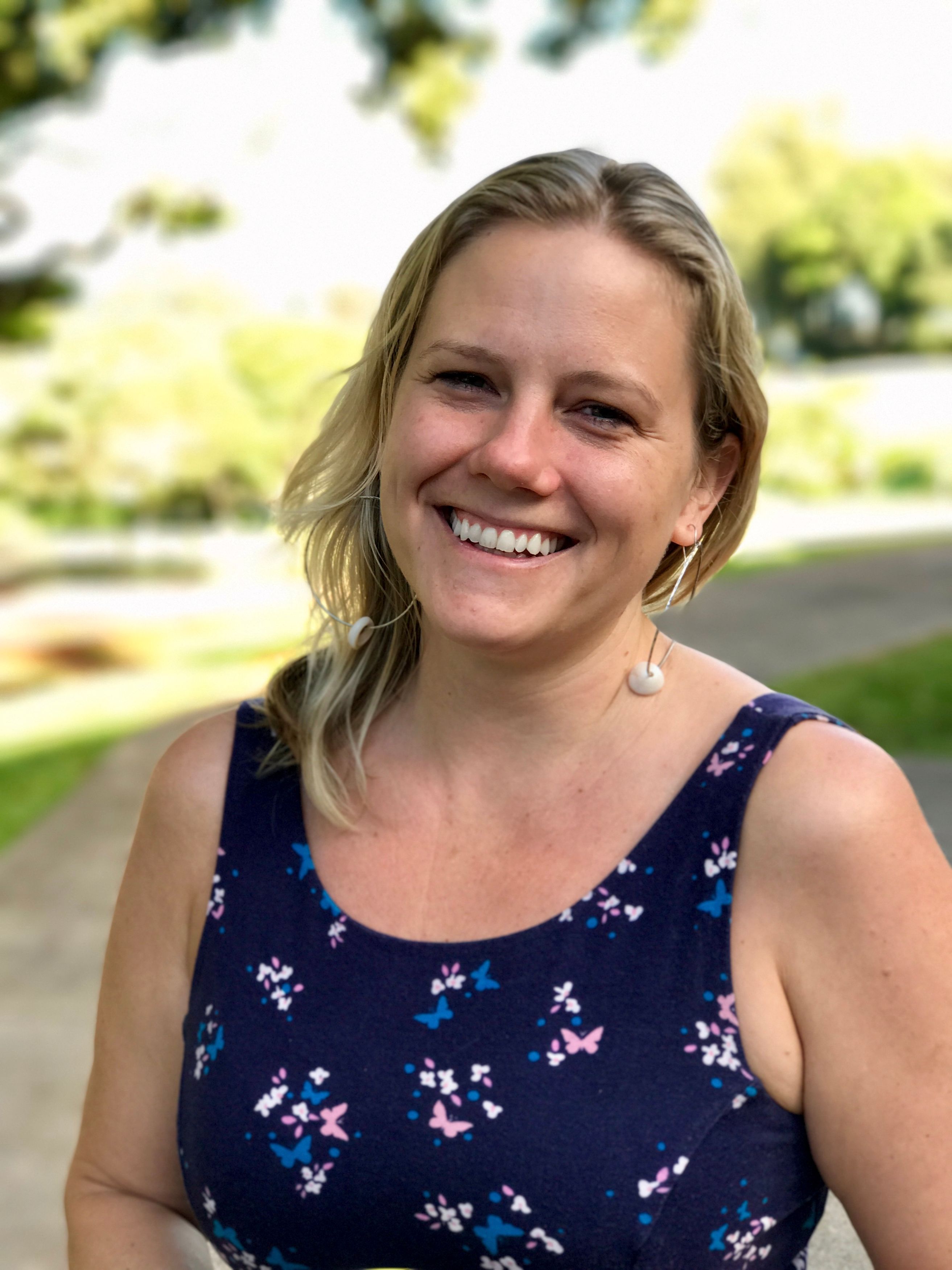 Emily Severson
Emily has been a Lower Elementary Lead Guide since 2007 in our Banyan Class. A Montessori student herself, Emily shared, "I believe that the lessons I learned about intrinsic motivation carried me through the rest of my educational career and have supported me in many other aspects of my life as well." Growing up in a huge Irish family in Chicago has equipped Emily well for the bustling classroom of students who thrive under her leadership.
Emily earned a bachelor's degree in journalism from the University of Arizona and worked as a print journalist for several years before receiving her Montessori training and settling on Maui to join our faculty. She followed up her original Montessori elementary certification with a master's degree in Montessori education. Emily enjoys hiking, going to the beach, cooking and reading with her daughter Laila.
Upper Elementary

Shirah Minagawa
Shirah first joined the Montessori School of Maui in 2005 as Lead Guide our Mamane Class Upper Elementary class. She is originally from Detroit, Michigan, and moved to our lovely island in 2001. She is honored to be a part of our community and cites that she was drawn to Maui in hopes of one day working here. "I am constantly amazed with the support and sense of community of here and love being a part of an authentic Montessori elementary program, which balances the developing imagination and powers of abstraction with beautiful concrete materials designed to lead to discovery and understanding."
Shirah is married and her son, Naoki, attends our school as a member of Kukui Class. She received her Montessori training in 2000, has an AMI Montessori certification and both a bachelors and masters in education. Her hobbies include surfing, cooking, hiking, dancing and spending time at the beach with family and friends.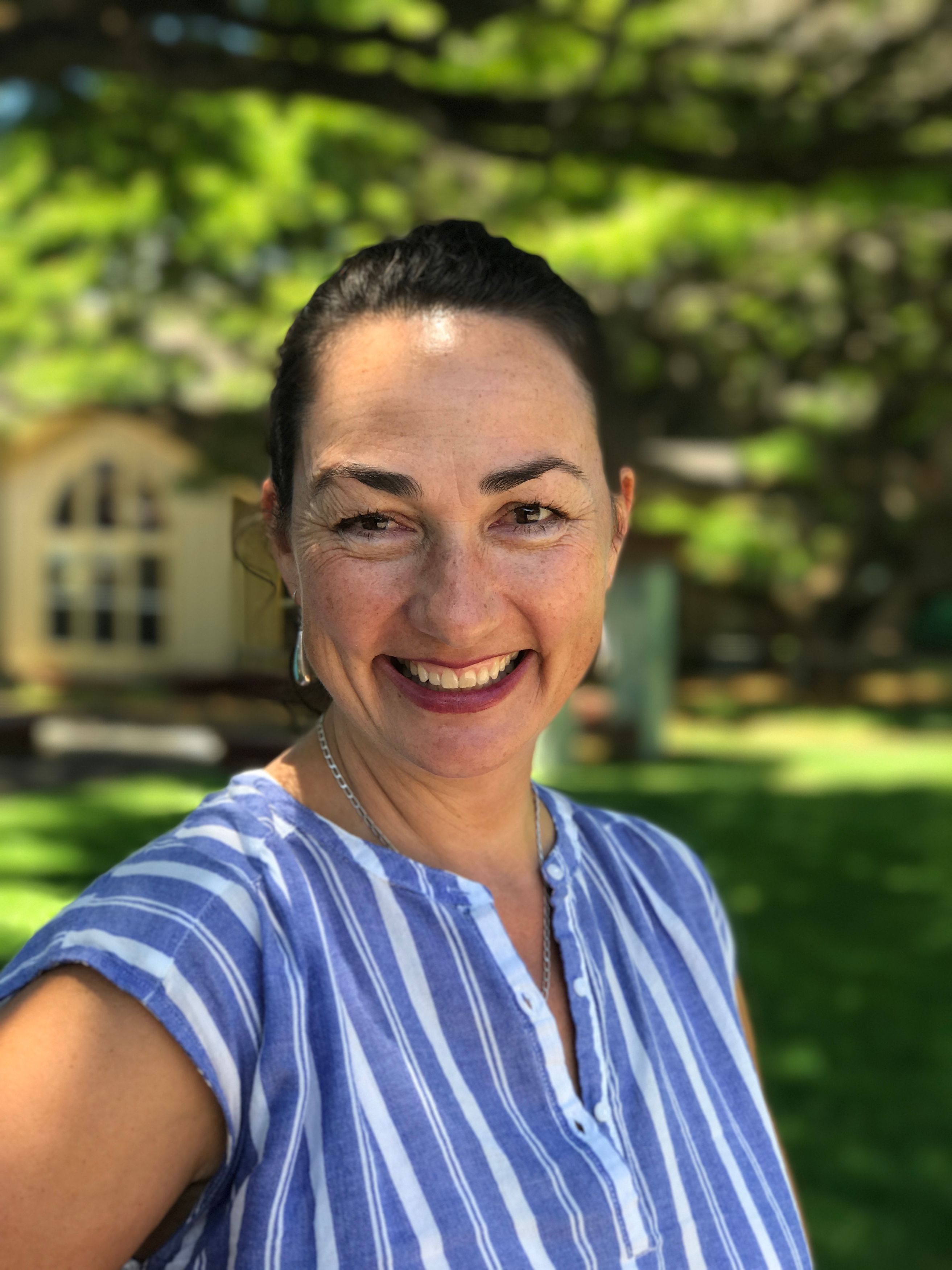 Amy Eiden
Amy comes to us from Boise, Idaho. She has a strong and diverse Montessori background having taught Primary, Lower Elementary as well as Upper Elementary. She received her trainings from both AMI and AMS, and she has taught Montessori in both the private and public sectors. She holds a M.Ed from Loyola, a BA in History, Montessori Elementary certifications from AMS and Hawai'i and Idaho State Teaching Licenses.
Amy is most proud of developing Idaho's first Montessori Upper Elementary classroom within the public-school system. Her main goal in teaching is to help students retain their natural curiosity and inherent love of learning. "I feel like I'm a tour guide on the road of education. Montessori is the perfect discipline to offer students opportunities to develop their character, self-awareness and knowledge base; it offers opportunities for students to truly live up to their highest human potential."
Amy is grateful to be at the Montessori School of Maui. It has been her life-long dream to live in Hawai'i and experience a joyful sharing of life. She loves being in nature, sharing good food, reading and playing in the ocean.
Middle
Sch
ool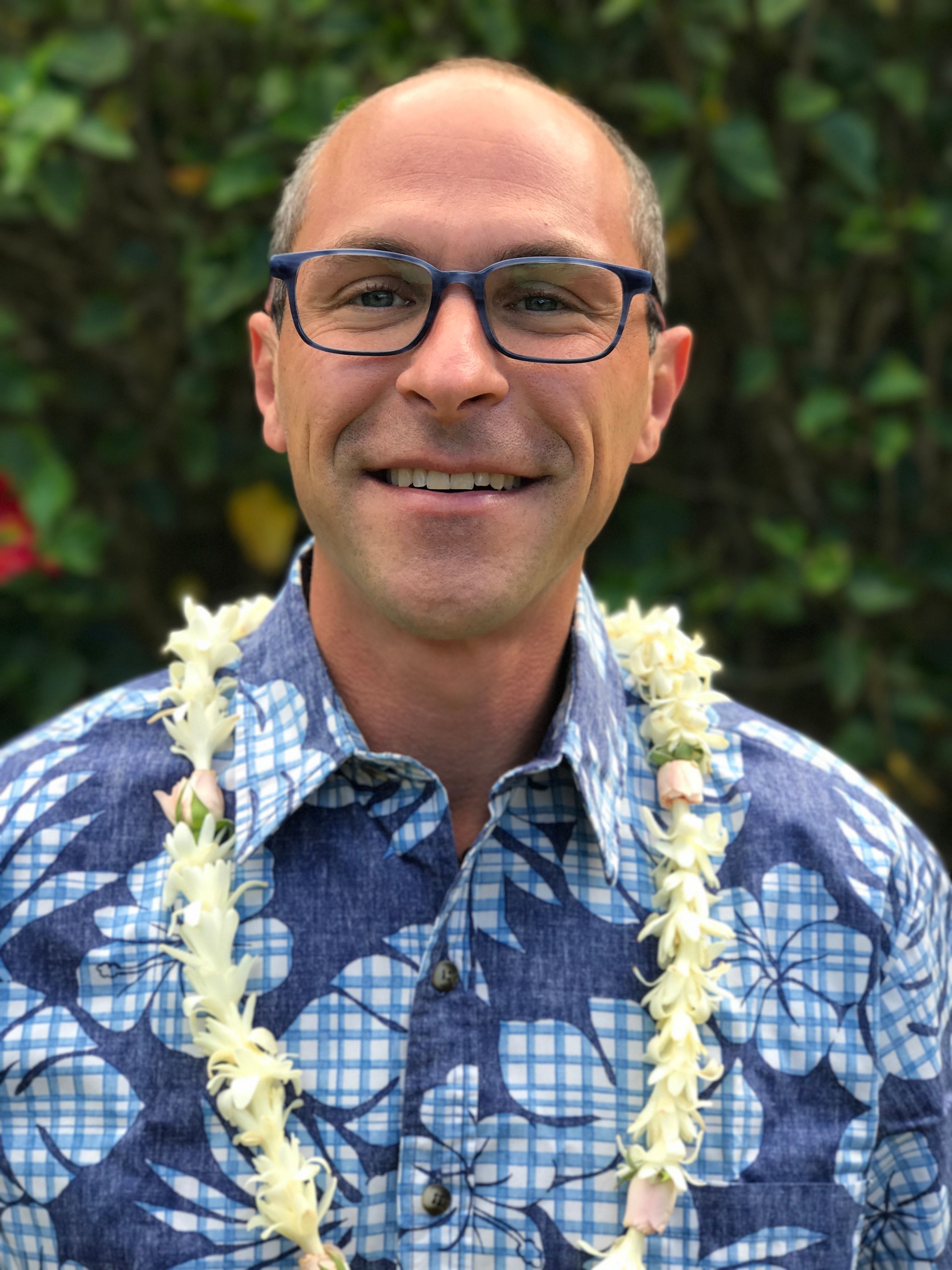 Jeffrey Friedman
Jeffrey joined Montessori School of Maui in 2008 as we launched our fourth Primary Classroom (Kukui). After serving in that role for five years, he moved to Portland and then Uruguay to dabble in different areas of Montessori's global growth. Jeffrey then returned to MOMI and is now four years into the next phase of his Montessori career as the Lead Guide in our Middle School program. Jeffrey believes practicing Montessori philosophy, theory and application in a school environment is among the greatest forms of humanitarian service and it shows in his passion for the work.
A graduate of the AMI Orientation to Adolescent Studies, AMS and AMI Primary Montessori trainings, a Masters in Education, and a BA in English, Jeffrey is well equipped in the classroom. He states that "by guiding children to reach the fullest realization of their personality, we rebuke the mainstream attitude towards childhood - book knowledge trumps character development. In this ever increasingly connected global community, it's not the facts and figures that will define success and satisfaction. Rather, the ability to joyfully engage in myriad collaborations between a cross-pollination of individuals from all corners of the Earth, in all industries that exist now and those still yet to come in the future."